NWO Take-Off Grant for SRL
Dr. Christoff M. Heunis awarded the €40,000 NWO Take-Off Grant .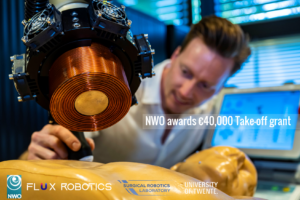 With an increase in patients, there is a desperate need for surgeons to perform much-needed minimally invasive surgeries, which requires both dexterity and skills for proper execution. To alleviate specific challenges that surgeons face under pressure in the operating room, it has become crucial to consider the potential role of flexible and safe robotic-assisted surgeries. In this project, Dr. Christoff M. Heunis and Prof. Sarthak Misra of the Surgical Robotics Laboratory will investigate the technical and commercial feasibility of a magnetic actuation system designed to assist surgeons in hospitals. The goal is to provide a highly flexible, tele-operative, and relaxed working environment for clinicians through the integration of risk-free imaging modalities and magnetic theory with robotic arms. Through extensive pre-clinical studies, the proposed system has shown promising results that indicate its universal use during both elective and emergency surgeries. With the help of the NWO Take-off grant, the divide between the proof of concept and a commercial prototype will be bridged to facilitate the realization of their start-up, Flux Robotics. This would allow the team at SRL to advocate the use of magnetic surgical robots in the operating room.