SonoMag – UT Entrepreneurial Challenge 2022
SonoMag wins the best prototype award at UT Entrepreneurial Challenge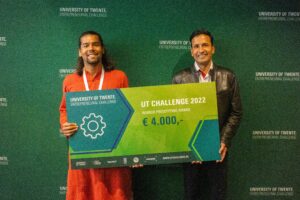 Following the tradition of our spin-off, Flux Robotics, a team from Surgical Robotics Lab shines at yet another edition of UT Entrepreneurial challenge with their prototype SonoMag. The grand finale of UT Challenge was held on 17 June 2022 (Thursday) at Kinepolis Enschede where selected teams from over 91 projects presented their business ideas.
The team behind SonoMag, comprises of Sumit Mohanty and Sarthak Misra, that promises targeted delivery of cancerous drugs to malignant tumors located in deep-seated regions of the human body, which can tremendously reduce potential side-effects due to chemotherapy. SonoMag combines the power of acoustic and magnetic fields to manipulate sub-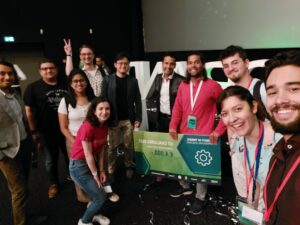 millimeter agents, that can be exploited to remotely deliver small dosages of drugs in inaccessible and hard-to-reach organs of the human body. The motivation behind use of clinical ultrasound for remote manipulation of drugs stems from the innovations of the previous spin-off from SRL, Flux Robotics, that promises to advance vascular surgeries using magnetic manipulation of guide wires. We thank all the organizers and coaches from Novel-T, Incubase, and University of Twente for their constant support throughout this competition. More details on the grand finale have been published in the UT article.