SRL wins big at PIHC awards
Members of Surgical Robotics Lab were awarded two grants for collaborative research proposals at the Pioneers in HealthCare (PIHC) ceremony on 11 December, 2018. The proposals were submitted in collaboration with Dr. Jan Grandjean (cardiothoracic surgeon at Medisch Spectrum Twente) and Dr. Dick Gerrits (radiologist at Medisch Spectrum Twente).
1. MAGNETICALLY-ACTUATED DEPLOYABLE-STENT CATHETER FOR PERCUTANEOUS CORONARY INTERVENTIONS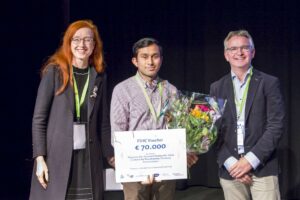 Coronary heart disease is the leading cause of death in the world, and Percutaneous Coronary Interventions are commonly employed to treat this condition. The aim of this proposal is to improve the success rate of this procedure through the development of a novel catheter system capable of stent implantation using magnetic actuation. The proposed method will improve control over catheter steering, thereby reducing damage to blood vessels, and will decrease radiation exposure compared to prevalent fluoroscopic guiding techniques. Improved surgical efficiency and reduced hospitalization times will mean better utilization of medical resources and personnel, and superior quality of life for patients.
Applicants: Dr. Venkatasubramanian Kalpathy Venkiteswaran (UT), Prof.dr. Jan Grandjean (MST), Prof.dr. Sarthak Misra (UT)
2. PNEUARMM: PNEUMATICALLY ACTUATED ROBOT FOR MINIMALLY INVASIVE MRI GUIDED INTERVENTIONS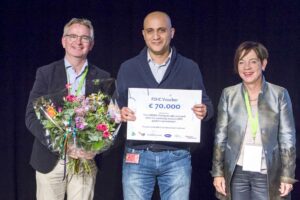 Lung cancer is the most fatal neoplasm among adult population. Proper diagnostic and therapeutic technologies with lower costs, less side effects and higher accuracy, are key to a successful treatment. MRI/CT-compatible surgical-assistive robots are one of promising advancements in this regard. However the application of the technology in thorax interventions has been limited. PneuARMM is an initiative of UT-SRL, MST and PneuRobotics company to develop the platform required for safe, affordable, MRI-compatible, robotically assisted minimally invasive pulmonary interventions. The knowledge from PneuAct, MIRIAM and RICIBION projects will be directly utilized to develop a patient-mounted, pneumatically-actuated, parametrically-designed, multi-modality compatible and disposable surgical apparatus.
Applicants: Prof. dr. Sarthak Misra (UT), Dr. Dick Gerrits (MST), Foad Sojoodi Farimani (UT)