Surgical Robotics Laboratory part of the Horizon Europe Grant – RĒGO

The Surgical Robotics Laboratory of the University of Twente led by Prof. Dr. Sarthak Misra is part of a consortium that has been awarded a Horizon Europe grant. Their project with the name: RĒGO has been selected for funding within the call "Pushing the limit of robotics cognition" (Digital and emerging technologies for competitiveness and fit for the green deal).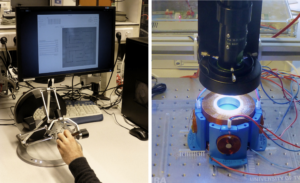 The ambition of the RĒGO project is to enable the next generation of AI-powered interactive small-size multi-robots systems. RĒGO will develop an innovative set of microsized swarms of robots for collaborative tasks. These swarms will be wirelessly steered by electromagnetic fields and controlled by humans through intuitive dexterous interfaces and interaction techniques. The project will lead to creation of application-specific microrobotic swarms targeting challenges of minimally invasive surgical procedures. Additionally, catalytic swarms will be studied for their potential in water treatment applications.

RĒGO is led by the CNRS (France) and will involve partners from four EU member countries collaborating to achieve a scientific breakthrough in the field of human-robot interaction for micro-robotics. Other partners are CHU Rennes (France), Italian Institute of Technology (Italy), Haption (France), Scuola Superiore Sant'Anna (Italy), Inria (France), and Helmholtz-Zentrum Dresden-Rossendorf (Germany).